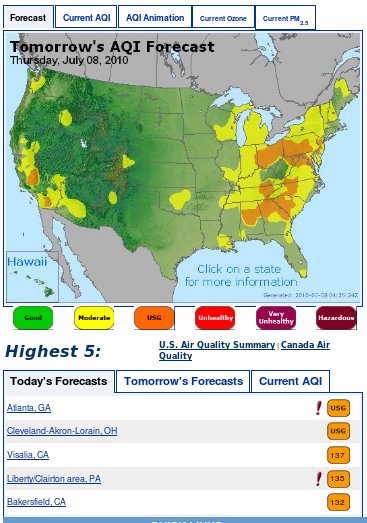 Now in our sixth day of high temperatures, high humidity, high levels of air pollution harm and considerable human suffering, the Cleveland-Akron-Lorain area of Ohio now has the distinction of being on the U.S. EPA's Forecast list of 5 worst pollution locations in the county for July 8, 2010 - and our pollution monitoring equipment is not working consistently in the region, so our air pollution is likely worse than recorded and/or reported by the EPA. So, if the EPA finds real NEO #2 in America for pollution, I'm quite sure we are in fact #1.
Not a reason for LeBron to remain in Cleveland. Definitely a reason to stop burning coal in Northeast Ohio and world-wide.
In the mean time, you must suffer through another really smoggy NEO day today - US EPA AirNow forecast below - and hope for rain and cooling weather - wind and water - to wash our region's sins away (or at least into our fields, yards, lakes, rivers and groundwater)...




Forecast for Cleveland-Akron-Lorain, OH Tomorrow's Forecast
Thursday, Jul 8:
Unhealthy for Sensitive Groups
Particle Pollution (2.5 microns)

For additional information concerning the air quality forecast, contact one of the following agencies, or visit

http://airohio.epa.state.ohs

.

For Cleveland: Bureau of Eng. Services, Dept. of Public Health & Welfare, 216-441-4879,
For Akron: Akron Regional Air Quality Agency, 330-375-2480,
For Lorain: Ohio EPA, Northeast District Office, Division of Air Pollution Control, 800-686-6330.
Do not reply directly to this email. If you want more information on the air quality forecast, or other aspects of the local air quality program, please contact your local air quality agency using the information above. For more information on the U.S. EPA's AIRNow Program, visit
http://www.airnow.gov
.