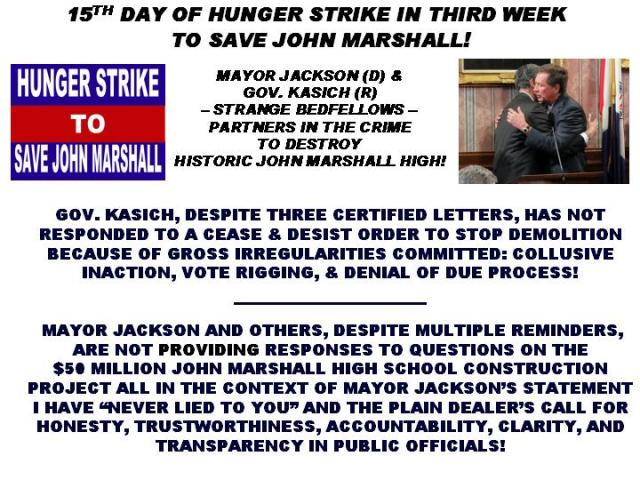 DAY 15 (12-04-12) OF INDEFINITE HUNGER STRIKE BY 70-YEAR OLD SIKH-AMERICAN AND GOV. KASICH & MAYOR JACKSON PARTNERS IN CRIME TO DESTROY HISTORIC 80-YEAR OLD JOHN MARSHALL HIGH SCHOOL!
WEIGHT LOSS = 15.5 POUNDS. CURRENT WEIGHT = 122.5 POUNDS. SPIRITS ARE HIGH!
MAYOR JACKSON (D) & GOV. KASICH (R) – STRANGE BEDFELLOWS – HAVE TURNED OUT TO BE PARTNERS IN THE CRIME TO DESTROY HISTORIC 80-YEAR OLD JOHN MARSHALL HIGH SCHOOL IN CLEVELAND, OHIO WHILE A
70-YEAR OLD SIKH-AMERICAN IS ON AN INDEFINITE HUNGER STRIKE TO SAVE THE ARCHITECTURAL GEM!
DESTROYING AN ARCHITECTURAL GEM IS A CRIME AGAINST HUMANITY!
HUNGER STRIKE & GOVERNOR KASICH:
A HUNGER STRIKE IS A CRY FOR JUSTICE WHEN DUE PROCESS IS DENIED TO CITIZENS WHO HAVE NEITHER POWER NOR WEALTH!
HUNGER STRIKE TO SAVE HISTORIC 80-YEAR OLD JOHN MARSHALL HIGH SCHOOL STARTED ON NOVEMBER 20, 2012 AT 12:01 A.M. AND WILL CONTINUE INDEFINITELY UNLESS THE DEMAND IS MET!
THE DEMAND IS THAT GOVERNOR KASICH OF OHIO ORDER THE CLEVELAND METROPOLITAN SCHOOL DISTRICT TO CEASE & DESIST FROM DEMOLISHING HISTORIC 80-YEAR OLD JOHN MARSHALL HIGH SCHOOL BECAUSE OF GROSS IRREGULARITIES COMMITTED: COLLUSIVE INACTION, VOTE RIGGING, & DENIAL OF DUE PROCESS!
THREE CERTIFIED LETTERS (DATED OCTOBER 8, 2012; NOVEMBER 8, 2012 & NOVEMEBER 20, 2012) WERE SENT TO GOVERNOR KASICH!
SO FAR GOVERNOR KASICH HAS NOT RESPONDED TO ANY OF THE THREE CERTIFIED LETTERS!
MAYOR JACKSON:
MAYOR JACKSON OF CLEVELAND, OHIO HAS SAID: I HAVE "NEVER LIED TO YOU"!
THE PLAIN DEALER – OF CLEVELAND – OHIO'S LARGEST NEWSPAPER WANTS PUBLIC OFFICIALS TO BE HONEST, TRUSTWORTHY, ACCOUNTABLE, CLEAR, AND TRANSPARENT!
SO, HAVE MAYOR JACKSON, COUNCILMAN SWEENEY, CEO GORDON OF THE CLEVELAND METROPOLITAN SCHOOL DISTRICT, DENISE LINK – CHAIR. BOARD OF EDUCATION, JENNIFER COLEMAN -- CHAIR OF THE CLEVELAND LANDMARKS (DEMOLITION) COMMISSION, ROBERT VILKAS --CHIEF ARCHITECT OF THE CITY OF CLEVELAND (WITH THE TITLE OF MANAGER OF ARCHITECTURE), COUNCILMAN BRANCATELLI, AND COUNCILWOMAN CLEVELAND -- BEEN HONEST ON THE $50 MILLION JOHN MARSHALL HIGH SCHOOL CONSTRUCTION PROJECT LOCATED IN CLEVELAND, OHIO?
IF THEY HAVE BEEN HONEST – THEN WHY ARE THEY NOT PROVIDING
WRITTEN RESPONSES TO QUESTIONS ON THE $50 MILLION JOHN MARSHALL HIGH SCHOOL CONSTRUCTION PROJECT ALL IN THE CONTEXT OF MAYOR JACKSON'S STATEMENT I HAVE "NEVER LIED TO YOU" AND THE PLAIN DEALER'S CALL FOR HONESTY, TRUSTWORTHINESS, ACCOUNTABILITY, CLARITY, AND TRANSPARENCY IN PUBLIC OFFICIALS!
THE QUESTIONS (INCLUDED IN A 120-PAGE DOCUMENT) WERE SENT VIA E-MAIL AND CERTIFIED MAIL ON NOVEMBER 8, 2012, REMINDERS WERE ALSO PROVIDED VIA E-MAIL ON NOVEMEBER 12, 14, 15, 16, AND 17, 2012, AND VIA CERTIFIED MAIL ON NOVEMBER 15, 2012. A RESPONSE WAS REQUESTED BY MONDAY, NOVEMBER 19, 2012 AT THE LATEST – AND NONE WAS PROVIDED!
THE QUESTIONS PERTAIN TO GROSS IRREGULARITIES: COLLUSIVE INACTION, VOTE RIGGING, AND DENIAL OF DUE PROCESS ON THE $50 MILLION JOHN MARSHALL HIGH SCHOOL CONSTRUCTION PROJECT!
Also, the School District did not act in good faith with over 2,400 petitioners who want to SAVE JOHN MARSHALL by renovating the High School including the Auditorium,
Underground Running Tracks, and Swimming Pool.

PERSONAL OBSERVATIONS:
SO FAR, I HAVE I HAVE LOST 15.5 POUNDS. AT THE START, I WEIGHED 138 POUNDS.
WHILE I FEEL WEAK – I AM ABLE TO DO CHORES AROUND THE HOUSE AND TAKE CARE OF OUR PETS. I WORK VERY VERY SLOWLY – SO AS NOT TO WASTE ENERGY.
I SLEPT A LOT ON THE SECOND DAY – BECAUSE I WAS VERY TIRED ON THE FIRST DAY. ON THE THIRD & 4TH DAY – I DID NOT SLEEP THAT MUCH.
I FIND LYING IN BED IS VERY RELAXING – WITH OUR CATS ALL AROUND -- NOW THAT I HAVE AN EXCUSE NOT TO GET UP.
WHENEVER I FEEL TIRED, I TAKE A NAP AND AFTERWORDS I FEEL VERY RELAXED AND ENERGIZED. I WOULD LIKE TO GO OUT AND DEMONSTRATE FOR HOURS – BUT I KNOW I WILL WASTE A LOT OF ENERGY.
I DRINK LOTS OF WATER – IT FILLS UP MY STOMACH – AND GIVES A VERY REFRESHING FEELING. I AM TAKING VITAMIN PILLS AND SALT.
ALSO, I WASH MYSELF IN THE MORNING – USING WET PAPER TOWELS AND CHANGE MY CLOTHES. THIS REFRESHES ME FOR THE DAY. I AM AFRAID OF TAKING A BATH – FOR FEAR OF FALLING DOWN.
GOING ON A HUNGER STRIKE CAN BE BORING – SO I SPEND AS MUCH OF MY WAKING TIME POSTING ON FACEBOOK (SAVE JOHN MARSHALL HIGH SCHOOL GROUP) AND MY BLOG AT REALNEO. USUALLY THE POSTS ARE FAIRLY DETAILED AND REQUIRE MULTIPLE DRAFTS.

I CONTINUE TO BE IN HIGH SPIRITS. I HAVE ALSO BEEN OUT ON FOUR DAYS – I WALK SLOWLY AND SIT DOWN AS MUCH AS POSSIBLE. ON THE 3RD AND 4TH DAYS WHEN I WENT OUT – I LEFT MY TRAVELING CART & ALL THE SIGNS I USE IN MY DEMONSTRATIONS BEHIND – FOR THE FIRST TIME – IN NEARLY 18 MONTHS. IT FELT SO STRANGE -- THE CART HAS BEEN MY CONSTANT COMPANION – AND I MISSED IT. BUT NOW I HAVE TO CONSERVE ENERGY – AND I CANNOT AFFORD HAULING A HEAVY CART.
I ALSO WENT OUT ON THE – THE NINTH DAY – I WALKED VERY SLOWLY. IT TOOK ME 40 MINUTES TO WALK TO THE BUS STOP – WHICH I NORMALLY CAN DO IN HALF THE TIME.
I ALSO STEPPED OUTSIDE ON THE 10TH DAY – IN FRONT OF OUR HOUSE -- WAVING MY SIGNS – AND SURPRISINGLY A FEW OF THE CARS HONKED. I WAS ABLE TO GET A FRIENDLY PEDESTRIAN TO TAKE PHOTOGRAPHS OF ME.
ON THE 11TH DAY – I WENT OUTSIDE FOR 30 MINUTES. I WALKED ALONG COOLEY AVE, WAVING MY SIGNS – I WALKED VERY VERY SLOWLY – TO WEST 130TH STREET. I DEMONSTRATED FOR A SHORT WHILE – AND VERY QUICKLY GOT WORN OUT. A FEW OF THE CARS HONKED. MOST – JUST WHIZZED BY – TOTALLY UNAWARE THAT A HUNGER STRIKE WAS IN PROGRESS. HUNGER STRIKES ARE NOT PART OF THE LOCAL CULTURE.
ON THE 13TH DAY - A FRIEND GAVE ME A RIDE AND WE FIRST WENT TO GIANT EAGLE TO PICK UP EXTRA COPIES OF THE SUNDAY PLAIN DEALER (WITH THE ARTICLE ON JMHS) AND SIX JUGS OF WATER. SHE HELPED CARRY THE WATER. LATER SHE DROVE ME TO THE NURSING FACILITY WHERE MY WIFE IS RECOVERING. MY WIFE, WHO IS IRISH, IS TOUGH AS NAILS AND APPROVES OF WHAT I AM DOING – EVEN THOUGH GIVEN A CHOICE SHE WOULD RATHER THAT I NOT GO ON A HUNGER STRIKE. BUT SHE ALSO KNOWS THAT A GRAVE INJUSTICE HAS BEEN DONE – AND IT HAS TO BE CHALLENGED – OTHERWISE MY SOUL WILL NOT BE AT REST.
ON THE 14 AND 15TH DAYS – I WAS BUSY WRITING ALL DAY. I TOOK A 2-HOUR NAP IN THE EVENING. AFTER A NAP – SOMETIMES I WAKE UP WITH A MILD HEADACHE – WHICH GOES AWAY AFTER A SHORT WHILE.
I AM NOT A HEAVY SLEEPER – I JUST SLEEP A FEW HOURS EVERY NIGHT.
I AM MAINTAINING A DAILY JOURNAL – AND JOT DOWN ALL MY ACTIVITIES AND HOW MY BODY IS REACTING. I MAINTAIN JOURNALS ON EVERYTHING – I HAVE A NUMBER ON THE SAVE JOHN MARSHALL CAMPAIGN!
SO FAR, OTHER THAN FEELING WEAK AND AN OCCASSIONAL HEADACHE, AND A PARCHED MOUTH (WHEN I GET UP IN THE MORNING – BECAUSE I DON'T HAVE ANY WATER IN MY BEDROOM) – I AM DOING JUST FINE. I HAVE NOT EXPERIENCED ANYTHING UNUSUAL!
I HAVE ALSO OBSERVED THAT MY STOMACH GURGLES – AFTER I DRINK A GLASS OF WATER WITH I TEASPOON OF SALT IN IT – AND IT GIVES ME VERY MILD DIARHHEA – NOTHING TO WORRY ABOUT.
TODAY, THE 15TH DAY – MY EYES ARE FEELING TIRED. I SPENT NEARLY 10 HOURS IN FRONT OF THE COMPUTER. I WILL SEE HOW I FEEL TOMORROW.
I WILL CONTINUE THE HUNGER STRIKE AS LONG AS MY BODY CAN TAKE IT!
I AM SURROUNDED BY A 100% CORRUPT POLITICAL SYSTEM – WHERE THE MEDIA IS IN BED WITH CITY HALL! THE SEWER FLOWS FROM CITY HALL ALL THE WAY DOWN TO THE BELLAIRE PURITAS DEVELOPMENT CORPORATION – AND ENGULFS EVERYONE OF MAYOR JACKSON AND COUNCILMAN SWEENEY'S CRONIES WITH THE MUCK!
I AM NOT FRUSTRATED ONE BIT – BY THE LACK OF ATTENTION FROM THE BROADCAST MEDIA – ZERO COVERAGE OF THE HUNGER STRIKE SO FAR -- ON THE CONTRARY – I AM CHARGED UP AS EVER. I AM LIKE A SPRING – THE MORE I GET PUSHED DOWN – THE GREATER IS THE FORCE WITH WHICH I REBOUND.
LET US SEE IF THE PLAIN DEALER WILL RESPOND TO THE REQUEST TO INVESTIGATE CITY HALL OR THEY WILL SUCCUMB TO PRESSURE FROM CITY HALL AND DO NOTHING!
THE PLAIN DEALER HAS NOT YET RESPONDED TO THE CALL FOR"INVESTIGATE CITY HALL". A REMINDER WAS SENT TODAY AND THEY WERE ASKED TO RESPOND BY DECEMBER 5, 2012 AT THE LATEST,
PRIOR TO START OF THE HUNGER STRIKE ON 11-20-12, I HAD FASTED – 12 TO 18 HOURS EVERY DAY SINCE MAY 1, 2012. SO FAR – I HAVE NOT EXPERIENCED ANY HUNGER PANGS.
PLEASE SEE PREVIOUS POSTS FOR ADDITIONAL DETAILS ON THE HUNGER STRIKE!
FACEBOOK & YOUTUBE:
Follow the SAVE JOHN MARSHALL HIGH SCHOOL group on Facebook: https://www.facebook.com/groups/160386844035662/ [2]
Also, see the following three YouTube clips:
1. Save John Marshall High School, Cleveland, Ohio
http://youtu.be/S6Shgwi5cuU [3]
2. Save John Marshall High School Pt. 2: Demonstration http://www.youtube.com/watch?v=jdTaCQrwoF4 [4]
3. Save John Marshall High School Part 3: Call for a Hunger Strike
http://youtu.be/nyoL5sFBjeA [5]