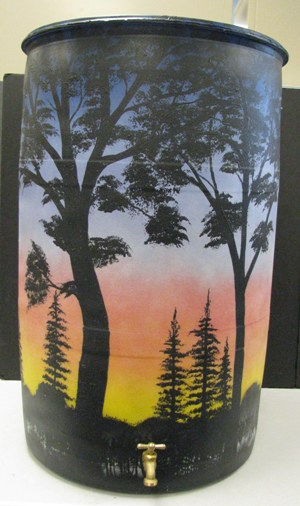 ------How Do I Make and Install a Rain Barrel?
Click here [2] for our handout on rain barrels which describes the system we use and how to build it/install it.
You can also attend one of our upcoming workshops which is sometimes and easier option because we get all the materials for you, have all the tools, and teach you how to make it.

Upcoming Rain Barrel Workshops

We will have the barrel, parts, tools and downspout diverter. You will make your own barrel (help is provided if necessary) to take home to use on your home.
Choose a date/time that works for you and call the appropriate number to register. We will send out a registration confirmation with directions to the location.

http://www.cuyahogaswcd.org/RainBarrels.htm Their
MISSION:
To promote conservation of land and aquatic resources
in a developed environment through
stewardship, education, and technical assistance.

(also free rain barrels to those that qualify)and if you are considering a pond, call them, they offer services to help map out water issues. Each county has a SWCD division. Used to be part of the Lake County one, miss it, I should get back into it, was fun too. They all need vol if interested as well. The rain barrel shown, is one of many that are painted and auctioned off by--copy) :
The Cuyahoga SWCD has 27 artists who donated their time, money and amazing talent to paint rain barrels for us!) Check them out :) Betty
more info at http://www.cuyahogaswcd.org/RainBarrels.htm