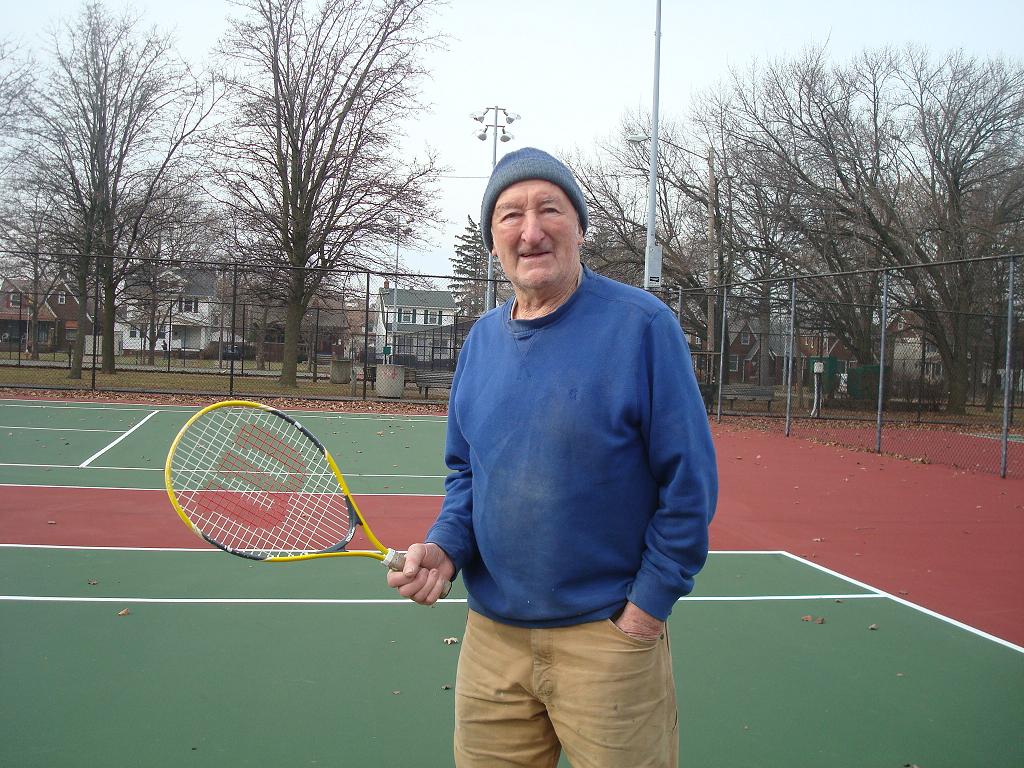 JOHN A. LAVELLE (1930-2022) -- A VERY GOOD NEIGHBOR IN CLEVELAND, OHIO
John A. Lavelle (1939-2021) was a dear friend and a very good neighbor who came from county Mayo in 1976 on March 15 (two days before St. Patrick's Day – as he always reminded us) to Cleveland and married dear Maureen – and finally settled in a house on West 132nd Street facing Jefferson Park.
After being diagnosed with cancer in May 2021 and receiving treatment in the following months – John passed away peacefully on the evening of Thursday, December 23rd at the Ames Family Hospice House in Westlake.
Marie Kearns Zupanc, John's niece, who was at his bedside very lovingly remarked that Heaven had gained a wonderful angel!
John's heart was always in his neighborhood – always working hard to make it a better place. Michelle-Ryan Lopez, a neighborhood friend, who often chatted with John while sitting on the front porch steps – aptly referred to him as the Mayor of Jefferson Park. He organized monthly meetings (after 2014) for the Jefferson Park Concerned Citizens – a 19-year old neighborhood group that used to meet regularly every month (before the pandemic struck) to discuss issues of interest to the residents; organized the group's annual Christmas party; participated actively in 2006 in seeking donations for installing the West Park Banners of Freedom for U.S. veterans on light poles around the park and also on Lorain Avenue between West 130th to West 140th Street; started a recycling program for the neighborhood; and collected over 150 petitions in 2019 requesting City Hall to restore the traffic lights at the hazardous crossing of Lorain Avenue and West 134th Street /Berea Road.
John was always available to help residents of the Jefferson Park neighborhood who needed a hand at fixing anything in their houses or on their property that was not in order – doors not closing; fences leaning into the neighbor's property; tree limbs ready to fall off; broken porches and railings; repairing locks, cleaning clogged drains; power washing house exteriors, a garage that needed painting; a flower patch along a driveway that needed new wooden curbs; sealing cracks in concreted driveways; mowing lawns, trimming hedges; and many more. You could also count on him to install new doors and locks (by his count in the hundreds). Never heard him say no to fixing a problem! And every project was done with a smile and a degree of perfection not very common nowadays.
John was a master wood craftsman – could take planks of wood – and fashion them with his skills and tools into objects worthy of display in a design museum – chairs, stools, a dining room table, a four-post bed, cabinets, trays, step stools, napkin holders, key chain holders, crosses, calendars, artistic handles for 1-inch wide old steel screwdriver shafts, and many more. When asked whether the ideas came from his head – he would say no – they came from the wood.
We talked about an armless chair in the living room that John said was made from recycled wood. This got us talking about modern mass-produced chairs made from molded plywood and other chairs made by modern furniture designers.
I observed him, in 2018, installing a new wood and glass door (for a neighbor) – separating the kitchen from the dining room – in an over-100 year old house. He would work outside where his carpenter's platform was set up – planing the edges. Then he would carry the door (by himself – no small feat) – bring it inside – line it up with the side hinges – and if it did not fit – he would take it outside for more planing – and bring it back inside. In making the door fit – he would lift it up and move it from side to side and up and down till it finally fit to his exacting standards. John called this wrestling with a door. He explained that the problem was fitting a new door in to an old frame.
In December I had many enjoyable conversations with John about Ireland and other topics. He was a skilled conversationalist with a good sense of humor.
We had a common bond. My late wife (Sarah Clingain Puri) was from Derry as were her family members including her mom, sister Ruby (who moved from New York City to a house across the park on West 133rd Street), brother Ben, niece Dymphna, and Darkie the family dog. When I was growing up in India – I studied for a few years in a private school run by Christian Brothers from Ireland. Sarah and I had also visited Ireland. In 2001, we moved from NYC to a house on Cooley Avenue – south side of the park.
John enjoyed talking about old times in Ireland – when shoes were repaired by cobblers and made almost new again, when steel studs were nailed to the bottom of heels and toes – to make them last longer; when clothes got patches to extend their usage; and when woolen sweater and socks were mended and not discarded.
John talked about people wearing wooden shoes (clogs) in Ireland. This reminded me of seeing my older relatives in India wearing wooden footwear at home when I was growing up. (Known as Klompen in Dutch, wooden shoes have been used in the Netherlands since medieval times. A google search shows the availability of wooden shoes on the Internet.)
We talked about Aran sweaters and how Sarah had got me one.
When I showed him a book (Miller's Antiques Checklist Furniture) – he leafed through the book, suddenly stopped and called out: Marie come and look – here is the Mayo couch – pointing to the photograph of a chaise-longue. John said his parents had a similar piece in their house in Ireland and they called it the Mayo couch. (A chaise-longue is a fully upholstered chair with an elongated seat and inclined back open at one end. Egyptian royalty, and Greek gods and goddesses are known to have had such chairs where one can put up and stretch one's legs without fear.)
We also talked about Queen Anne-period chairs (c. 1700) and the craftsmen-ship required to fashion out by hand the elegant front legs – also called cabriole legs.
John used to visit the Amish communities in Ohio to look at the furniture made by skilled craftsmen. He said he once saw a young craftsman fashion a cabriole leg out of a solid piece of wood using power tools (powered not by electricity but compressed air) in a matter of minutes – something that probably took many hours using hand tools in the 1700's.
He said when a good pair of one of his shoes required mending – he took it down to an Amish cobbler who repaired it and made it as good as new.
John talked about the Newport Railway Viaduct (with seven graceful arches over the Blackoak river) in Mayo that carried trains for the Great Western Railway powered by steam engines. Over 1,000 workers were employed in the 1880's during construction of the rail line from Westport to Achill Island. The line also had two tunnels. John marveled at the quality of the redstone pieces (from a local quarry) and how they fitted together with the keystone to form the arches for the bridge. Again, as a retired structural engineer, I was able to share my experiences of bridge construction. The first train crossed in 1894. The line was finally closed in 1937. The bridge is now a pedestrian walkway and bike path. There is a photograph of the viaduct in the Lavelle's house.
John talked about the making of the Titanic (in Belfast's shipyards) – and jokingly added that the Titanic was fine when she left Belfast; the Wright brothers and their bicycle shop; Thomas Alva Edison and his inventions; George Stephenson and the invention of the steam engine; other inventions; about the need for more recycling; and about the joy of living in Cleveland.
John enjoyed decorating the tall Christmas tree (with 3,000 lights by his estimate) in the front lawn. The operation of installing the large number of lights – required a ladder and was spread over many days. John mentioned the logistics (equipment, number of workers, storage of lights, etc.) involved in decorating the tall Christmas tree in Crocker Park. On December 6th, John and Maureen took Nancy Csorey (our next-door neighbor) and me to see this tree and lovely decorations outside houses – west of Cleveland. While Maureen was driving – he was giving out the instructions on the route to follow – to make sure that we did not miss out on the landmarks – houses with remarkable annual decorations. Both Nancy and I enjoyed the tour.
John's lighted Christmas tree was the joy of the neighborhood. It has been featured in annual posts on my blog at Realneo. The tree appears in the center of a composite photograph showing decorations around the park. While it lit up the neighborhood – could be seen from far away – it brightened our hearts.
John was active at the West Side Irish American club. On December 12th – he read a lovely poem at a dinner organized by the Cleveland Pioneer Total Abstinence Society. He also marched regularly in the annual St. Patrick's Day Parade – carrying the Irish flag.
On May 17, 2019 – he was honored at City Hall on Senior Day.
The photograph shows John ready to make a powerful shot holding my racquet in the south tennis courts opposite his house, shortly after noon, on December 28, 2019.
John made a point to turn on the lights in the tennis courts every evening – to brighten up the park and also to assure more safety.
Everyone in our neighborhood I have talked to, over the years, was touched by John's willingness to always help!
We are all going to miss John, our friend!
There is so much more to talk about!