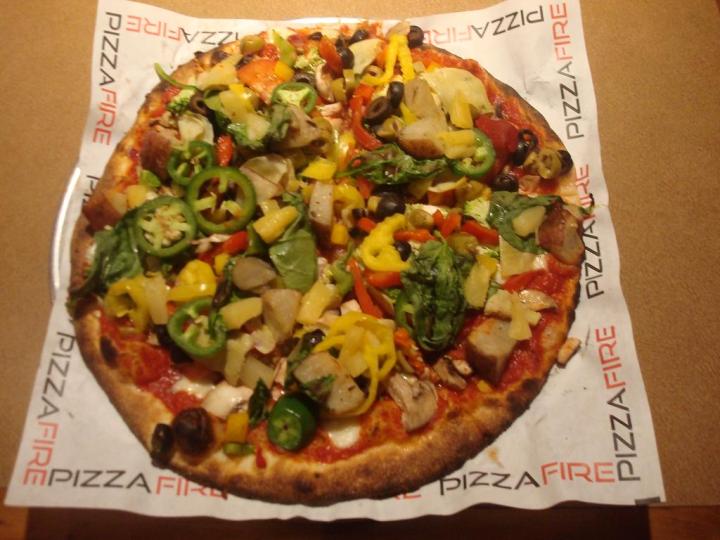 HEAVENLY VEGETARIAN PIZZA – 16 TOPPINGS PLUS PINEAPPLE CHUNKS
Note: This post is not trying to promote a restaurant – just a short description of a pleasant day I had in Cleveland – a few weeks ago.
On Friday, the first of December, 2017 – on my way back from a trip to the Cleveland Museum of Art – I was forced to stop in downtown.
(At the museum which I try to visit at least once a week – I paid my umpteenth visit to the current blockbuster exhibition -- "The Jazz Age – American Style in the 1920s"– a visit which I thoroughly enjoyed. I use public transportation and walking to get to the museum – a trip that can take up to 2-hours each way.)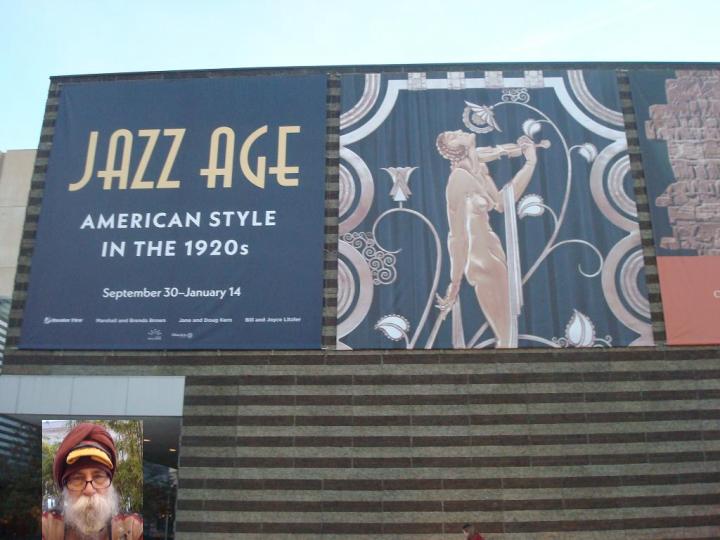 Because of construction work – the RTA Rapid stopped at Tower City – giving passengers the choice of using a shuttle to get to your destination.
Once I got out in the open – after spending over 4-hours on my feet all day –I suddenly felt hungry – which meant a trip to my favorite pizza joint in downtown was in order.
Once I got inside – I ordered my pizza – a build your own creation -- thin crust – with tomato-basil sauce – fresh mozzarella cheese – and unlimited toppings.
Well the toppings are in a sense limited – the joint offers 16 types of veggies – including red onions, green peppers, fresh mushrooms, banana peppers, broccoli, fresh spinach, fresh basil, tomatoes, black olives, roasted red peppers, green olives, jalapenos, sun-dried tomatoes, artichoke hearts, arugula, and giordinara – and pineapple chunks.
It took about 10-minutes to cook the pizza (on fire I am told) and about 30-minutes to consume it. Every bite was savory. I drank free Cleveland water. The jalapenos were too hot– after I finished – I had to eat two packets of sugar to quench the burning sensations.
And I read the latest news from the New York Times while I was eating. My late wife and I are from New York – having moved here in 2001 – and I pick up a copy whenever I am in downtown. I used to have a subscription for daily home-delivery – which I had to finally cancel – because the carrier frequently missed delivering the paper leading to all sorts of problems.
Once I came out – the Christmas lights were all around in Public Square (nicknamed Jimmy Dimora Public Square because of the corruption involved).
Even the sky was clear – and the almost full moon added to the glow from the top of Terminal Tower.
I walked around in Public Square and took a lot of photographs.
The ice-skating rink was empty – it was nearly 11:00 p.m.
I took the #22 bus home. The bus whizzed by on Lorain Avenue – I missed my stop in front of Jefferson Park.
I walked down West 133rd Street – it was all quiet – not a soul around.
I was tempted to go out and play solo tennis which I enjoy and play almost every evening when the courts are dry and I am home.
The lights in the tennis courts were out (shut off at 10:00 pm during autumn). I guess you can't have everything.
All in all a beautiful excursion. I was out for 9-hours. The all- day RTA pass was $2.75. The trip to the exhibition is free for members. The pizza was $8.99. And the overall joy – priceless.