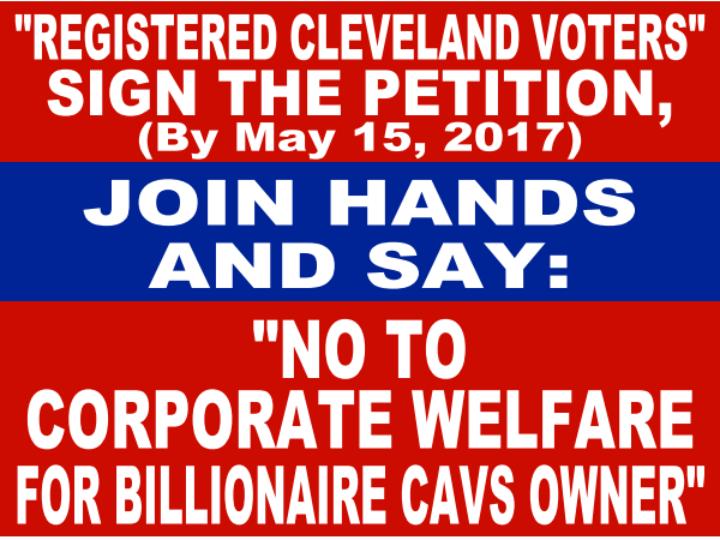 REGISTERED CLEVELAND VOTERS – SIGN THE PETITION (By May 15, 2017) -- IF YOU BELIEVE IN "NO TO CORPORATE WELFARE FOR BILLIONAIRE CAVS OWNER"
Background:
Dan Gilbert, the billionaire owner of the Cleveland Cavaliers (assets = $5 billion) wants taxpayers to pay $70 million towards a $140 million bond to finance the proposed renovation of the 23-year old Quicken Loans Arena. Mr. Gilbert will pay the remaining $70 million.
By the time the bond is retired – taxpayers will have paid out, $160 million -- 57% of the final $282 million cost. Mr. Gilbert's share will be $122 million. Mr. Gilbert has also offered to renovate the basketball courts at the City's 22 recreation centers and at the high schools.
Of the $160 million – the City of Cleveland will pay $88 million (from admission taxes on tickets to events in The Q for eleven years from 2024 to 2035). The remaining amount will be paid by Destination Cleveland (from county bed taxes), and Cuyahoga County (from a reserve fund set up for the Convention Center and the Hilton Hotel).
If you believe that registered voters in Cleveland, and not the City of Cleveland, should decide how the $88 million should be spent –then please sign the petition to place the issue on the November 2017 ballot.
Mr. Gilbert has all the resources to pay for the upgrade himself.
Residents of Cleveland want concerns in our neighborhoods (like crime, poverty, unemployment, etc.) to be given top priority and not corporate welfare for billionaires.
1. Vinny's Beverage, 13531 Lorain Avenue, Phone (216) 476- 4700, Hours: Mon. – Sun. 10:00 am to 10:00 pm.
2.Joy Machines Bike Shop, 1836 West 25th Street, Phone (216) 394-0230, Hours: Mon. – Fri. 11:00 am to 7:00 pm, Sat. 11-5, and Sun. 12-4.
3. Only on one evening: Brooklyn Heights United Church of Christ at 2005 W. Schaaf Road in Old Brooklyn. Petitions will be available at a joint meeting of NE Ohio for Liberty and the Cleveland Conservative Network Tuesday, May 9 at 7 pm at the State Rep. Bill Patmon will be the featured speaker.
Please sign by May 15, 2017 at the latest.
Petitions are being collected all over Cleveland, mostly by volunteers and also at the locations shown.
We need a minimum of 6,000 valid petitions to have the issue placed on the ballot.
FROM JEFFERSON PARK TO DOWNTOWN -- CLEVELANDERS ARE SAYING "NO TO CORPORATE WELFARE FOR BILLIONAIRE CAVS OWNER"
Photographed on the evening of Wednesday, May 3, 2017 – the day our Cleveland Cavs beat the Toronto Raptors: 125-103.