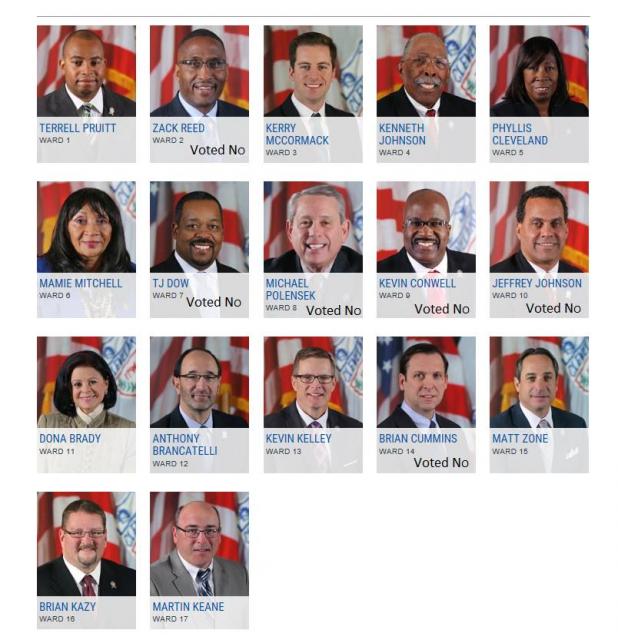 From Eric J Brewer - candidate for Mayor of Cleveland:
Live and in technicolor, I've included the pictures, names and served wards of Cleveland's 17 city council members. Keep in mind that two unlawfully hold forfeited offices, Terrell Pruitt and Jeff Johnson. Pruitt forfeited after missing 10 regular meetings. Jeff is a Summit County resident living in Twinsburg with his wife and her two daughters. They have no legal right to vote or receive public funds in pay as council members.
I've identified in the pictures the councilors who voted "NO." All others voted "YES." So for Cleveland voters seeking to know who should be held accountable for the theft of $80 million in public funds it's the YES vote people.
Here's what else should bother you. Just last year Mayor Frank Jackson and Council Prez Kevin Kelley joined with other council members to support an $83 million income tax increase. Doesn't it seem rather odd that after crying broke and begging the voters for $83 million, Jackson and Kelley are rigging the government to steal $80 million from the taxpayers and give it to multi-billionaire and Detroit resident Dan Gilbert?
Those who voted "yes" for this shit have proved they can't be trusted. If you're running against them don't hold back. Don't worry about Councilwoman Mamie Mitchell [2]. Word has it she's leaving and Blaine Griffin [3] will be replacing her.
Run hard, opponents. This is a good issue.