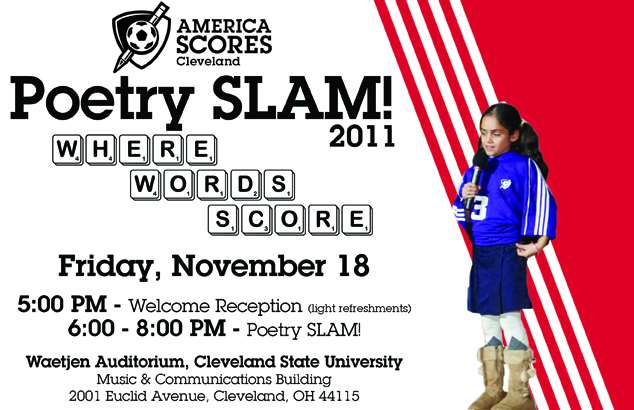 Ever wonder what poetry and soccer have in common? Find out on Friday, November 18th at America SCORES Cleveland's 2011 Poetry SLAM, Where Words SCORE.
The Poetry SLAM gathers all 288 participating youth in the America SCORES Cleveland after-school program from nine Cleveland Metropolitan schools to celebrate another successful poetry and soccer season with their peers and families. Teams from each school will perform 2-minute original group poems on Cleveland State University's Waetjen Auditorium stage. Teams also select one representative to perform an individual poem before an audience of more than 500. Special guest judges will score the poems based on originality and stage presence to determine the Gold Mic Champions.
Eric Gordon, Cleveland Metropolitan School District CEO, and Monyka Price, Chief of Education for the City of Cleveland, are the evening's honored speakers.
When: Friday, November 18, 2011
6:00 – 8:00 pm
Free to the public
For more information, visit: www.AmericaSCORESCleveland.org [2]
America SCORES Cleveland is an affiliate of America SCORES, a national model for sports-based youth development targeting girls and boys in urban neighborhoods. America SCORES Cleveland serves 416 elementary and middle school students, ages 8-15, in nine Cleveland Metropolitan Schools located within the Clark Fulton, Glenville, Hough, North Broadway/Slavic Village and Puritas-Longmead neighborhoods. This five-day per week after-school program works to enrich the lives of inner-city youth through regular participation and skill building in soccer, creative writing, and service-learning. Teamwork — the key to success in both education and sports — is the common denominator.
Waetjen Auditorium, Cleveland State University
Music and Communications Building, 2001 Euclid Ave.
Cleveland
,
OH
44115
United States