An exciting new business has opened in NEO -- Gray's Auctioneers. Cleveland now has the largest auction house between New York and Chicago! Gray's inaugural auction of furniture, decorative arts and fine arts will be this Sunday, June 17th at 12 noon. Most of the items in this auction came from Florida estates and are entirely new to the Cleveland market. There are some great deals to be had! Check out Gray's Auctioneers's website and online catalog [1] that just went live this past weekend and stop by their location at 10717 Detroit Avenue to preview the 212 lots this week (Wednesday 10-6, Thursday, Friday 10-8 and Saturday 10-2). There's sure to be something you have always wanted. Maybe you will find a Father's Day gift. This auction even has vintage ties!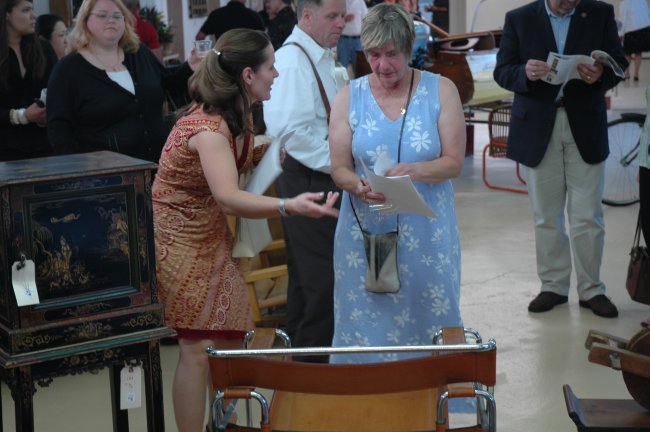 I attended the packed VIP reception for family and friends at Gray's Auctioneers Tuesday evening. Hundreds of guests attended, including local business owners, politicians and neighbors. News of Gray's had been buzzing around town for months and for most of the guests it was their first opportunity to see the auction lots and the building itself. The guests sipped wine and champagne while inspecting Americana such as vintage sleds, a nursing chair and farming tools. They admired a handsome Queen Anne highboy, an Edward Field's waterlily rug, and a Paul McCobb dining room set. There were whimsical and odd items such as the Tin Tin chair and the rocking chair made out of a brass bed, but the Lyman motor boat from 1955 was probably the favorite conversation piece.
Those who know me know I am an anti-consumer, but I do approve of buying at auction. Buying at auction is sustainable shopping. I like to think of auction items as recycled goods. Give an auction item a new life and you save energy and materials and some space in landfills. Gray's Auctioneers is actually an extra green auction house because they use bio-diesel vehicles for pick ups and deliveries.
But, you ask, why the need for an auction house with a physical address when there are online auction houses like Ebay? There are several good reasons why the traditional auction house has not gone out of style; most buyers would prefer to inspect the item before bidding, especially if the item will cost over a few hundred dollars. And, if you are looking to buy something that will weight more than a few pounds, it just makes sense to buy it locally. Shipping costs can get outrageous, and don't forget to add in the cost of carbon emissions on our environment. Last but not least, most people who have attended a live auction will agree that bidding in person, raising their paddle in an excitement filled room, is really fun --much more fun than sitting alone with your computer. And, if necessary, you can stare daggers at that person who is bidding against you.
I know many people in NEO who talk and dream of opening a business, and doing something to improve our city, our economy and our neighborhoods, but Deba Jean Gray and Serena Harragin, the owners of Gray's Auctioneers, have actually invested their money and energy to make their dream a reality. Both have lived outside of Cleveland and have been involved in very successful ventures, but found Cleveland worth returning to. Gray's Auctioneers occupies a beautifully renovated 7000 sq. ft. building on a stretch of Detroit Avenue between West Boulevard and 117th Street that once might have been called blighted, but now the entire neighborhood suddenly seems revived. Gray's Auctioneers is worth visiting just to experience the optimism -- something NEO could use much more of.