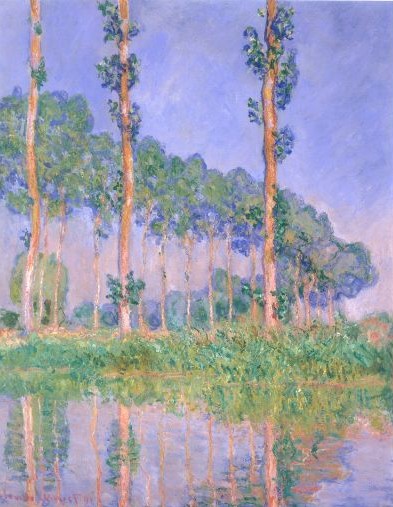 Claude Monet. Poplars, Pink Effect, 1891
36 7/8 x 29 1/8, Private Collection

Wednesday night I attended a lecture at the Cleveland Museum of Art, part of the Monet Lecture Series that accompanies the exhibition Monet in Normandy. So far I have attend all but the first in this eight lecture series. I found the previous lectures all to be very entertaining and enlightening. I feel I know a lot about Monet now -- I read the exhibition catalog and gallery labels and I have listened to the audio tour, but I am finding that Claude Monet is a truly fascinating figure and it seems there is always something more to learn about him. Paul Tucker is a professor at the University of Massachusetts and a renowned scholar on Monet and Impressionist painting. His lecture was titled "Monet, Modernism, Normandy, and La France" -- a title I believe was meant to cover all the bases. What I found most interesting about Professor Tucker's hour long lecture was his insights on some of Monet's late works that become narrow and vertically oriented (such as Poplars, Pink Effect 1891) and the role of religion in Monet's life and work.
Claude Monet was a Catholic as was his second wife Alice hochede, and Monet's best friend in Giverny was the parish priest. Tucker believes that as Monet got older and began to contemplate his career and the significance of his work he began to create compositions with formal relationships to images of the crucifixion. While Monet may himself have been becoming more devout, he may have also been strongly motived by the centuries old quest to elevate the genre of landscape painting. Tucker's points seemed convincing based upon the images he used to support them. Unfornately, I have not been able to find any of the images Tucker showed in his lecture to post here.
Tucker seemed to have a nearly encyclopedic knowledge of Monet. The audience, which nearly filled the CMA lecture hall was enthusiastic and had many post-lecture questions. Tucker's scholarly analysis was well balanced with entertaining anecdotes about Monet and his family. He pointed out, with the help of a few historic photos, that Monet was quite a Dandy. In one photo he was wearing checkered English chef's pants, which apparently were all the rage in late 19th-century France. There was another photo of the wedding of Monet's stepdaughter, the wedding party standing on a path among the flowers at Giverny. Tucker told how Monet and Alice Hochede rushed marry a few weeks before this wedding so that Monet could walk his stepdaughter down the isle. Monet had been living with Alice and her six children for years (both were widowed), but he felt it was inappropriate for him to walk her daughter down the isle without being married himself. He was also upset with Alice's daughter's choice of husband. The suitor was merely an artist. Monet thought she could do better!