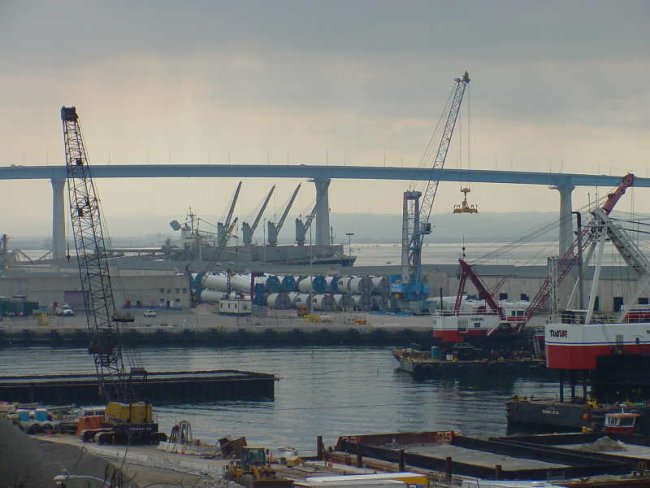 WIND TURBINE TRAVELS:
Cleveland Foundation and Cuyahoga Port Authority - take a Road Trip to San Diego
Cleveland Foundation's head Ronn Richard and Foundation wind advisor Mr. Stuebi want to bolster Cleveland's poor public image by putting "about 10" wind turbines "3 miles out" in Lake Erie North of Downtown Cleveland. They are encouraging the Cuyahoga County Commissioners to seek tax payer funding for the project. This is a mistake – for the reasons I have outlined in the past on this blog.
If Cleveland and NEO are to be extricated from becoming more and more inconsequential – as has happened steadily over the past 40 years while the Foundation's personnel, and Mr. Roman of the Greater Cleveland Partnership, and the staff of the Cuyahoga Port Authority, and other purported "leaders" have collected their salaries and benefits – we need to pay attention not to gambling casinos and convention centers or grand plans of shining white turbines on Lake Eire – but to rudimentary manufacturing support infrastructure.
Today the Port of Cleveland is obsolete. It has no modern lifting equipment for either containers nor for other heavy cargo. Meanwhile, the Port Authority spends its time and our money on eminent domain actions for its private development friends.
If NEO is going to be in the wind turbine manufacturing business – the Port of Cleveland must have adequate cranes. Instead of using $900,000.00 of taxpayer money to "study" a lake front plan with no public input, the Port Authority should study the economics behind modernizing the Port. A trip to San Diego would allow Mr. Carney (who should resign) and Mr. Richards to see the trade that adequate lifting equipment and dockage brings…scores of GE turbine nacelles and steel turbine tower sections – all made overseas - are stockpiled on the waterfront. The 300 E Gottwald mobile crane http://www.gottwald.com/gottwald/export/gottwaldsite/de/news/pdf/Construction_Materials_uk.pdf [1] does the heavy lifting for the Port of San Diego. This 100 ton capacity crane can also be barge mounted - perhaps for setting those turbine towers in Lake Erie! (probably not enough capacity for setting the nacelles) Heavy haul trucks are pulling the machinery out onto the interstate highways daily for installation in the desert wind regimes of Southern California.
Gentlemen, I encourage you to practice Kaizen, go to San Diego – not Vegas - to see what the Cleveland Port Authority should be investing in.