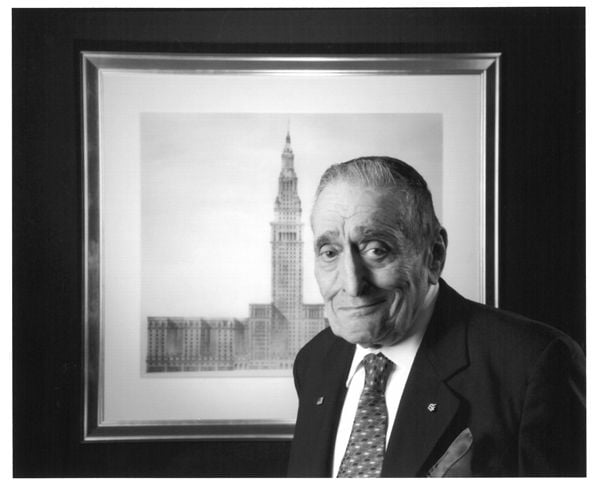 Clevelanddotcom obviously expected this news a lot earlier as Henry Gomez was tapped to write this eulogy [1] while he was still at PD (Gomez now works for BuzzFeed).
But, it is fitting that I link here to the Cleveland Jewish News' obituary:
https://www.clevelandjewishnews.com/news/local_news/sam-miller-forest-city-co-chair-emeritus-dies-at/article_c0805c9c-40db-11e9-93c1-279a927d0eee.html [2]
I am also going to excerpt and link to a Pete Kotz Scene article written in 2007-Please read it:
https://www.clevescene.com/cleveland/the-dark-knight-speaks/Content?oid=1498351&fbclid=IwAR3hppX1gjGg46t4voCClDZ5NsbSb0T6ATfFJ_2EukyZ3OQU7s5f2qGTjpY [3]
It was a momentous occasion. Inside Business was throwing a small dinner party for 500. Naturally, Sam Miller was invited to speak....He instead chose to lament the death of Cleveland, blaming it on our leaders' aversion to risk, their absence of vision. Excerpt: "We are confused, leaderless, and apathetic."
If we are to rise ever again, he implored, we must cast aside our provincialism in the name of regional cooperation.
Miller named no names. Provided no details. Offered no solutions. Were it a foreign policy address, it would have been akin to declaring that "extremist Muslims who blow up children really suck. We should form a committee."
Now - fast forward to 2019, the media again lauds Miller, but now scrambles to justify the framework he leaves behind. The acolytes groomed by Sam Miller: Frank Jackson, Armond Budish, Mike White (he is still here - check the Mandel Foundation), Rybka/Brancatelli, Sweeney/Kelley, Ray Pianka/Matt Zone, Jim Rokakis, Gus Frangos- and the media toadies who report whatever Sam Miller wanted : Chris Quinn and Brent Larkin.
Hence, the editorial board defense of Armond Budish and Brent Larkin's attempt to revive Vibrant NEO:
https://www.clevescene.com/scene-and-heard/archives/2019/03/04/the-watch-dog-sleeps-clevelandcom-defies-logic-to-defend-armond-budish?fbclid=IwAR0Mp4cDw05DYIB2uo_oFUNZM2VKOZYblNTQwmZYDZ92_SmjraSVTgTXdoI [4]
https://www.cleveland.com/opinion/2019/03/suburban-sprawl-has-already-devoured-clevelands-seed-corn-now-its-threatening-the-region-brent-larkin.html [5]