Who cares about voters who don't have a real estate address? Are they paying any taxes? Not any real estate taxes, that's for sure. So why should they be able to vote? (They certainly are paying lottery, cigarette, and alchohol taxes) Does our USA constitution tie voting to land? To a fixed physical address? Should you have any say in anything if you don't have a bed at a real-estate-tax-paying-address?
In San Diego lot' of folks live in the river bottom. In Los Angeles lots of people's address is on skid row or under an interstate highway bridge.
The shopping cart guy above lives in the urban woods. Can he get registered to vote?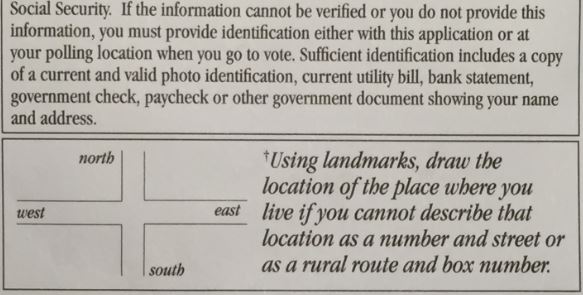 So I checked around with a few states....I found one state that would allow a shopping cart address to register to vote (see image above) That still doesn't get a homeless citizen past the other ID requirements....since it's difficult to get utilities hocked up to a shopping cart. And that bank statement? Right....