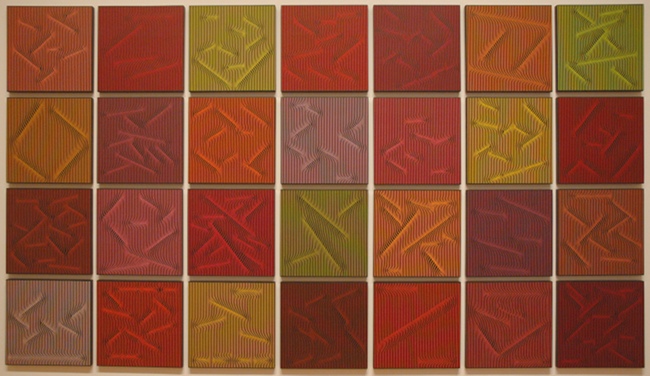 Julian Stanczak - "Continuous Line + Black" 2005 - Acrylic on board, 28 panels, 16x16 inches each

Julian Stanczak [1]... born November 5, 1928.
Norm Roulet documented the show of Julian Stanczak's work at MOCA Cleveland 2009 -
http://realneo.us/content/realneo-artist-all-seasons-julian-stanczak-what-does-it-do-you [2]
November 5, 2017
I attended the memorial today. It was very well attended with 100+ friends and members of the art community. It was nice to hear Polish conversation as we waited for the film Julian Stanczak Master Colorist [3] of Our Time. I was touched by the comments made by Henry Adams, Jill Snyder and Neil Rector. The highlights: Jill Snyder noted that in the presence of a genius like Julian - he "elevated your life to a sharper focus." Neil Rector commented that Julian struggled with his love of nature and his desire to "capture the compexity of the world on a two-dimensional surface."
The discussion also touched on the decision by Julian Stanczak to stay in Northeast Ohio. Henry Adams believes Stanczak's work benefitted from the "monastic discipline" he was able to achieve in Cleveland and that teaching was a major part of his process. Adams came late to his appreciation of Stanczak and credited CWRU professor Richard Hanson for the renewed local interest in 2012, when Hanson nominated Stanczak for an honorary degree from Case Western Reserve University. [4]
All of the speakers noted Stanczak's ability to feel and live life with so much empathy, vibrancy and passion. Those of us in Northeast Ohio - should be forever grateful that Julian and Barbara Stanczak made a commitment to our community.
Laura McShane
Details: http://www.cia.edu/events/2017/11/julian-stanczak-memorial [5]
Please join us at 2pm Sunday, November 5, Julian Stanczak's birthday, in the Peter B. Lewis Theater for a memorial in Julian's honor. Speakers will be art historian Henry Adams, MOCA Cleveland Director Jill Snyder, friend and collector Neil Rector, and CIA President + CEO Grafton Nunes. All are welcome.
An exhibit of Julian's study swatches will also be on view in the Ann and Norman Roulet Student + Alumni Gallery from November 2-6.