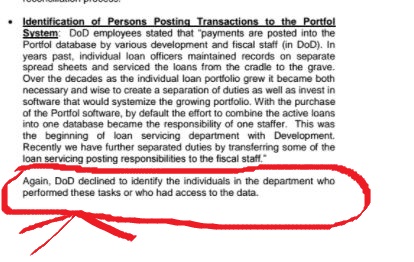 Armond Budish continues to operate with the same level of underhanded incompetence pioneered by his predecessors in Cuyahoga County government. There is no attempt by the media - in this most recent case, Peter Krouse of Cleveland.com - to ask even the most obvious questions about these transactions.
http://www.cleveland.com/metro/index.ssf/2017/06/corruption_ties_to_delinquent.html [1]
REALNEO has long documented the history of criminal incompetence under the former County Treasurer Jim Rokakis and his Deputy Treasurer Gus Frangos. Both individuals should be named by Mark Griffin - the Inspector General, who released this report:
https://www.documentcloud.org/documents/3882899-Inspector-General-Review-of-Development-Dept.html [2]


From: Laura McShane

Date: July 6, 2017 at 3:18:12 AM EDT

To: Mark Griffin <mdgriffin [at] cuyahogacounty [dot] us>, pkrouse [at] cleveland [dot] com <pkrouse [at] cleveland [dot] com>

Cc: George Rodrigue <grodrigue [at] plaind [dot] com>, Chris Quinn <cquinn [at] cleveland [dot] com>, Leila Atassi <latassi [at] cleveland [dot] com>, Mary Louise Madigan <mlmadigan [at] cuyahogacounty [dot] us>

Subject: Cuyahoga County Corruption
Honestly - the Plain Dealer publishes this scathing report and no heads roll at Cuyahoga County Department of Development? See attached photo - the County is named as a defendant in this case CV-11-766514. The loan appears to be unpaid. Leila Attasi began investigation in 2015 - and was shut down on the story by editors. This is insane.
| | | | | |
| --- | --- | --- | --- | --- |
| QUINN COURT PROPERTIES LLC | C/O GUS FRANGOS | DEFENDANT | CV-11-766519 | FIRST PLACE BANK v QUINN COURT PROPERTIES ET AL |
Corruption ties to delinquent loans rattle Cuyahoga County inspector general

Cuyahoga County Inspector General Mark Griffin said the association of scandal-ridden individuals with county lo...
LAtassi [at] cleveland [dot] com" title-off="" style="-webkit-padding-start: 0px;">Leila Atassi
Laura McShane
09/13/15 at 2:48 PM
I'm definitely planning a story on Frangos. It's in the works and coming in for a landing soon
Links:
[1] http://www.cleveland.com/metro/index.ssf/2017/06/corruption_ties_to_delinquent.html
[2] https://www.documentcloud.org/documents/3882899-Inspector-General-Review-of-Development-Dept.html
[3] https://hyperlink.services.treasury.gov/agency.do?origin=http://www.cleveland.com/metro/index.ssf/2017/06/corruption_ties_to_delinquent.html