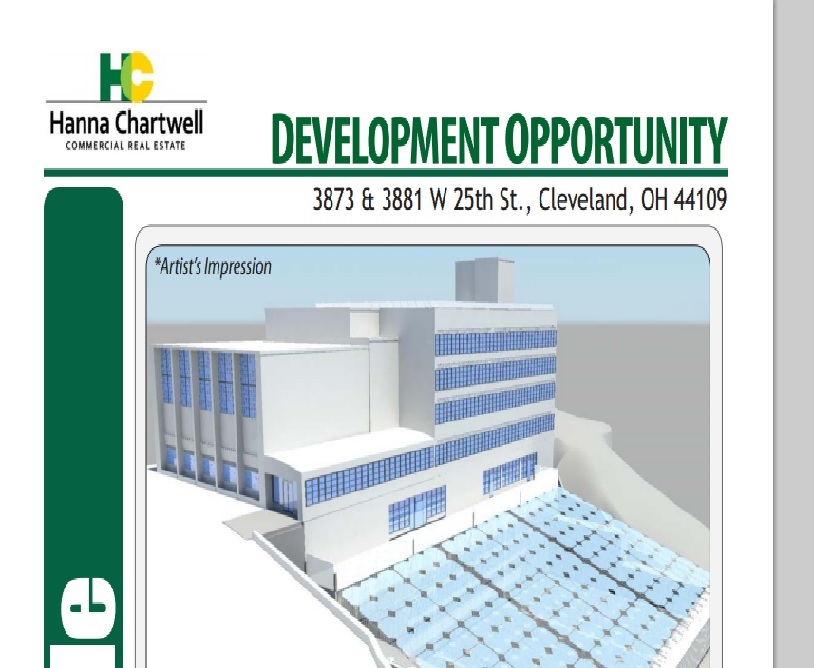 I learned today that Cummins and Brancatelli are attempting to fool some of the older members of the community into the idea that the ONLY way to demo the vacant YMCA on Pearl Rd. [2] is to cut a deal with fake "philanthropy" Cleveland Housing Network - Cummins has lied so many times to residents, I can not fathom WHY anyone would EVER vote for him. He LIED about Aldis, he LIED about WC Reed Field, he lied about the NRP project (which is now plagued with drug dealing and prostitution).
I don't know what it takes for folks to realize that Brian Cummins and Anthony Brancatelli are in BED with mobsters - the duo behind the Cuyahoga County Land Bank and the same folks who sold off property tax liens of black families in East Cleveland while allowing big tax lien scofflaws like Gus Frangos' family members to skate. Cummins KNOWS that two "investors" on West 25th-Pearl (one the son of a former CLE councilman) are not paying taxes on the Masonic Building and a building housing a daycare (look up Ginmark and White Gold). Enough is enough - put these two crooks out of business - and shut down the Land Bank and WRLC.
NEXT STEP is to engage Cuyahoga County Council. At least I am not the only one opposed to this unvetted land transfer in the works. County Council rep Yvonne Conwell HAS been responsive:
From: Gus Frangos <gfrangos [at] cuyahogalandbank [dot] org>


Sent: Monday, January 11, 2016 2:01 PM


To: Yvonne Conwell


Cc: Tony Brancatelli


Subject: RE: 3881 Pearl Rd., Cleveland (records request)
OK, we should talk first by phone. Councilman Brancatelli is aware of these citizens and has been dealing with them on a community level. They do now want this project to be housing for what they perceive are "incompatible" uses and residents. CHN is the party that has expressed interest in redeveloping the site, but there is no firm project as yet. This request can be viewed as a request to the county, and the extent of the County's response can be what the county demolition funding program is; or we can (and I would suggest) steering this as a public request to the Cuyahoga Land Bank since we have a healthy amount of info about this project. When we talk, I can fill you in on this project and what is being proposed. I think the highlighted language is what we would consider a public records request. Stand by and I will get back. I am copying Tony Brancatelli on this email. Thanks, and regards to you and Kevin! Gus
--
<image001.jpg>

Gus Frangos

President and General Counsel

Cuyahoga County Land Reutilization Corp.

323 West Lakeside Avenue, Suite 160

Cleveland, Ohio 44113

(216) 698-8616 (ph)

(216) 698-8972 (fax)

gfrangos [at] cuyahogalandbank [dot] org
EXPECT Cummins and Brancatelli to convene another special task force - Cummins MO on Wirth House (which he still can not destroy because of Section 106)
Nov 26, 2012 — For clarification:





1) No decision has been made or announced to close the ALDI store 3787 Pearl Road in Brooklyn Centre. In discussing the issue with ALDI Regional Executives, they confirm that a new ALDI store will be opened in Steelyard Commons by the end of 2013, but that no plans or announcements to close the Brooklyn Centre store have been made. This information was provide to Laura McShane late last week when rumors began. We'll maintain communications with ALDI and assist in anyway we can in justifying maintaining the very successful operations ALDI has in Brooklyn Centre.





2) A recent recommendation has been made to the Art House Inc. Board by an Art House Property Task Force Committee - "Based on the research done by the Property Task Force on the possible redevelopment of 3119 and 3201Denison Avenue for alternative productive uses, the Task Force recommends the demolition of both properties and the development of the land to enhance programming at Art House." This is the most recent action taken in what has been many years in which Art House has sought re-use opportunities for these structures. The recommendation to demo the structures was made in order to ensure Art House programming and Arts Education. To see the recommendation letter to the board, please see the following document at this link:


http://tinyurl.com/ArtHouse-9-17-2012 [3]





If anyone has any questions about wither one of these issues, please feel free to contact me using the information below.





Sincerely,





Brian J. Cummins


Cleveland City Council, Ward 14


bcummins[at]clevelandcitycouncil[dot]org


216 - six six four - 4238
~~~~~~~~~~~~~~~~~~~~~~~~~~~~~~~~~~~~~~~~~~~~~~~~~~~~~~~~~~~~~
(Archived County Land Bank site 5/1/2016
The Cuyahoga Land Bank seeks to create collaborations and partners to assist in the fulfillment of our mission to strategically acquire properties, return them to productive use, reduce blight, increase property values, support community goals and improve the quality of life for county residents. We work collaboratively with each of the municipalities where we own property to ensure that these properties are brought back to productive life in a way that aligns with that municipality's vision for its future.
The Land Bank also maintains partnerships where the use of our properties benefits the community, such as in the instance of community gardening or Urban Search and Rescue team training.
Some of our partners include:
—Court Community Service [4]
—City of Cleveland [5]
—Cuyahoga County [6]
—North East Ohio Regional Sewer District [7]
—Neighborhood Progress, Inc [8]
—City of East Cleveland [9]
—Cuyahoga Metropolitan Housing Authority [10]
—Cleveland Restoration Society [11]
—Cleveland Housing Network [12]
—LakewoodAlive [13]
—Cleveland Clinic [14]
—City of Berea [15]
—Polish American Cultural Center [16]
—University Circle, Incorporated [17]
—First Suburbs Consortium [18]
—City of South Euclid [19]
—HELP Foundation [20]
—International Service Center [21]
—Koinonia Homes [22]
—LiveCleveland [23]
—City of Garfield Heights [24]
—Purple Heart Homes [25]
—Village of Newburgh Heights [26]
—ESOP-Concerned Citizens of Mt. Pleasant [27]
—Eden Inc. [28]
We have established groundbreaking partnerships with HUD and Fannie Mae to capture their vacant and abandoned housing stock for either rehabilitation or demolition, preventing hundreds of severely neglected properties from being sold to negligent speculators and further causing our neighborhoods to decay. At the end of 2009, Fannie Mae signed an agreement with the Cuyahoga Land Bank to sell their homes to the Land Bank for $1 and contribute $3,500 toward the cost of demolition. In July 2010, the Cuyahoga Land Bank signed an agreement with HUD that allows the Land Bank to purchase HUD homes for $100 each during a first-look period if the homes are valued at $20,000 or less. Likewise, we can purchase HUD homes valued between $20,001 and $100,000 at a 30% discount before the homes are offered to the public. If the homes go on the market and don't sell within 60 days, the Land Bank can purchase them at a 50% discount. Each of these agreements was unprecedented and has set the stage for other land banks throughout the country.
They also laid the groundwork for agreements with Wells Fargo and Bank of America in the summer of 2011. Both banks agreed to donate low asset properties to the Cuyahoga Land Bank and provide $3,500 per property in NSP 2 target areas and $7,500.00 per property in the rest of Cuyahoga County toward demolition. Bank of America capped their donations at 100 properties.