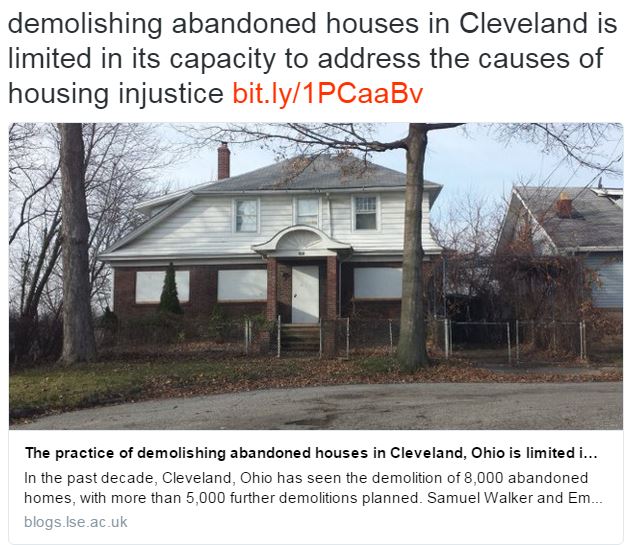 I don't know how long major urban centers can play the HUD Funding Game [1]- but it is killing us. This continued practice only leads to greater income and educational disparity. (Senior projects denoted with * - I can see the benefit and use of federal monies for these projects)
The following Northeast Ohio projects are being staged (not funded - YET) by local community development corporations and non-profits like CHN, who get a "CUT" of the development fees.


[2](SEE underhanded effort by Cleveland Housing Network, Land Bank and Detroit Shoreway for an OFHA financed project at YMCA Building [2])
Archives Apartments ( [3]Welcome House Inc) -
Archives Apartments consists of the historic rehabilitation and adaptive reuse of the Cuyahoga County Archives building located at 2905 Franklin Boulevard in the Ohio City neighborhood of Cleveland. The property includes the historic Robert Russell Rhodes House, a Victorian Italianate mansion built in 1874, and its Annex built in 1917. The development will meet green building standards by reusing and redeveloping the existing building into energy efficient, healthy and affordable housing which will include housing, office space, community space and programmatic space. The Rhodes House and its Annex will be developed into 24 independent apartment units for people with a developmental disability who are transitioning from the Cuyahoga County foster care system. Rehabilitation of the building contributes to the revitalization of the Ohio City Historic District, and is consistent with the City of Cleveland's Mission Statement. Welcome House, Inc., a local 501(c)3 nonprofit dedicated to helping individuals with developmental disabilities, will be providing supportive services to the residents and will have staff located on site. Welcome House, Inc. has purchased the building, and is dedicated to restoring this landmark to its original splendor while using the space to serve Street Address: City, State, Zip: Address: 2905Franklin Boulevard City, State Zip: Cleveland, Ohio 44113 Census Tract: Majority Member: Archives Apartments Housing Corp. Minority Member: Syndicator or Investor: Ohio Capital Corporation for Housing Non-Profit: Welcome House, Inc. Testa Enterprises, Inc. 2335 Second Street restoring this landmark to its original splendor, while using the space to serve the very needy population, who are at-risk for homelessness, as existing residential options do not serve their many needs.
Aspen Place (Detroit Shoreway) - [4]
Aspen Place is a 49,000 square foot new construction project located on Lorain Avenue - in the heart of the Detroit Shoreway neighborhood's nationally renowned Cleveland EcoVillage. Upon completion, Aspen Place will house Forty (40) new units of affordable housing with a mixture of 1- BR, 2- BR and 4-BR units. Project amenities include a community room, laundry facilites, on-site parking, resident gardens and immediate access to public transportation via light rail or bus and free recreation - given the proximity to the newly renovated, 22-acre Zone Recreation Center. Aspen Place was also one (1) of seven (7) projects in the country to receive Enterprise's first ever pre-development design grant which provided for a design competition amongst several architectural firms. The ultimate goal of the process was to elevate the quality of affordable housing design. Aspen Place will serve as a prime example of transit-oriented development given the project's location immediately adjacent to the W. 61st Street Rapid Transit Station and Lorain Avenue bus stop. The Project has formed a partnerhsip with the Greater Cleveland Regional Tranit Authority (GCRTA) to provide free transit/bus passes for residential tenants in the developement. Financing for the project will include low-income housing tax credit equity, HDAP funding, Afforable Housing Program Funds, County HOME Funds, foundation grants and City of Cleveland loan proceeds. Residents of Aspen Place will be linked local social service agencies, employers and K-12 schools and adult learning institutions to provide a holistic set of services for tenants.
Forest City Square (Detroit Shoreway) - [5]
The Forest City Square Apartments are part of a tranformative project located at the corner of West 25th Street and Detroit Avenue in the City of Cleveland, Ohio, at the head of a historically abandoned and blighted corridor less than one mile from Cleveland's central business district. The project will positively impact the residents of the neighborhood through the addition of a mixed-use, sustainably designed, transit-oriented, socially responsible development that integrates several community plan initiatives.
Legacy at St. Lukes (Cleveland Housing Network)- [6]
The Legacy at St. Luke's Pointe is a proposed new construction development, part of a larger mixed income development with both homeownership and rental opportunities. The project will be developed on vacant lots immediately north of the revitalized Saint Luke's Pointe, an awardwinning $63 million adaptive reuse of the historic Saint Luke's Hospital into a mixed use project in the Buckeye Neighborhood of Cleveland, Ohio. Cleveland Housing Network (CHN), in partnership with Zaremba Company (Zaremba) envisions a total of 78 homes, consisting of 39 townhomes and 39 single family homes. CHN will offer 39 homes under a rental model and Zaremba will offer 39 homes for-purchase. Legacy will contain 37 3-bedroom homes and 2 4-bedroom homes. CHN will build new construction homes to the Department of Energy "Net Zero Ready" advanced standards and best practices, exceeding Energy Star 3.0. CHN also intends to install PV solar panels on each new home. CHN will directly pass the cost savings for electric power generation to the household, cutting the average family's electric bill by 50% or greater averaged over a 12 month period. Under CHN ownership and management, residents of Legacy will have access to CHN's Family Stability Platform. As part of CHN's innovative partnership with the United Way of Greater Cleveland and the national Siemer Institute on Family Stability, this platform calls for a two-generation approach to service that works intensely with families to create and track a plan to meet each family's needs, provide case management, financial assistance and coaching, and implement strategic partnerships with school districts and other proven local service providers. This new initiative is a more consumer-driven model uniquely focused on enhancing resident autonomy, self-determination, and independence. Its success is based on continual monitoring to adapt to changing family needs, starting at move-in orientation, and persisting for the duration of the families' relationship with CHN.
Northern Ohio Blanket Mill (Levin Group) [7]*
The Northern Ohio Blanket Mill (the "Blanket Mill") is a 2.2 acre property at 3160 West 33rd Street in Cleveland, OH. The property contains a 112,000 square foot "L" shaped building with three floors and an adjacent 8,000 square foot one story, detached building. Both building were constructed in 1896 and are listed on the Federal Registry of Historic Places. When completed the Blanket Mill will house 73 units for senior tenants 55 years-of-age or older. The one and two bedroom units will range in size from 650 square feet to 1,100 square feet. Amenitites will include an exercise facility tailored to the needs of the senior population, a library, and an outdoor patio and gardens. There will be offices for a full-time property manager, maintenance person, and social services offered to meet the needs of the tenant population. The commercial component of the development will consist of approximately 12,000 square foot space on the first floor, ideal for a neighborhood health clinic. The Blanket Mill is located in a densely populated neighborhood in the city of Cleveland with a need for this type of housing. The project is connected to public transit, and a growing retail and cultural district which are receiving significant public economic investment.
St. Vincent de Paul Senior Housing (Catholic Charities) [8]*
St. Vincent de Paul Senior Housing is a 38,000 square foot new construction project located at the intersection of W. 135th Street and Lorain Avenue in the heart of Cleveland's West Park neighborhood on the campus of St. Vincent de Paul Church. Developed by Catholic Charities Housing, it will consist of 38 one and two bedroom apartments, in a 3 story elevator building for independent seniors age 55+. Amenities include community room, outdoor green space, social gathering areas, wellness center and easy access to public transportation. This development will support aging in place and offer affordable rents to seniors. It will also transform an underutilized surface parking lot and remove two vacant buildings. Catholic Charities Corporation, the sister corporation to Catholic Charities Housing will provide service coordination. Located on the Lorain Avenue corridor, the neighborhood is immediately accessible to Downtown Cleveland, the airport and surrounding Cleveland neighborhoods via car, bus and rapid transit lines. The goal of the building design is to blend within the context of the neighborhood along Lorain Avenue. The site is located within the Lorain Avenue Pedestrian Plan – A Transportation for Livable Communities Initiative (TLCI Plan).
Villa San Bernardo [9](Hattie Larlham)*
The Testa Companies, in conjunction with Hattie Larlham, are proposing the development of the Villa San Bernardo apartment community, which will involve the adaptive reuse of two historically significant buildings located within the Villa San Bernardo Historic District in the City of Bedford, Cuyahoga County, Ohio. The development will meet Enterprise Green Communities crtieria by reusing and redeveloping the existing buildings into energy efficient, healthy and affordable housing which will include 49 units targeted to seniors aged 55 and over, as well as 10 units to individuals with developmental disabilities. Ample community space, programmatic space, a management office and community laundry rooms will also be provided. Rehabilitation of the two buildings and restoration of the property as a whole contributes to the revitalization of historic and unique homes, creation of affordable housing for the growing population of seniors, utilization of vacant or under-utilized land and creation of public green spaces accessible by the entire community which is consistent with the City of Bedford's Comprehensive Master Plan. Hattie Larlham, a local 501(c)3 nonprofit dedicated to helping seniors and individuals with developmental disabilities, will be the main supportive service provider to the residents and will have Street Address: City, State, Zip: Address: 1160 Broadway Avenue City, State Zip: Bedford, Ohio 44146 Census Tract: Majority Member: Villa San Bernardo Management, LLC Minority Member: Hattie Larlham Housing Corporation Syndicator or Investor: Ohio Capital Corporation for Housing Non-Profit: Hattie Larlham Ownership Entity: Villa San Bernardo, LLC Ownership Information Cuyahoga Falls, Ohio 44221 Welty-Testa Builders, LLC Testa Real Estate Group MOTA Design Group Ohio Capital Corporation for Housing (330) 928-1988 Testa Enterprises, Inc. 2335 Second Street will be the main supportive service provider to the residents and will have staff located on site.
Emerald Alliance X (Eden and Cleveland Housing Network) [10]
Emerald Alliance X will be located at 7609 Euclid Avenue in the MidTown neighborhood of Cleveland, Ohio. The site was selected because of its proximity to community amenities and supportive services; excellent access to public transit; and its economic contribution to the neighborhood. The new building will be adjoined to the existing Greenbridge Commons PSH project developed in 2011, allowing for sharing of common spaces and staffing resulting in cost savings on the operating and construction side. Emerald Alliance X will be the tenth Permanent Supportive Housing building developed through the partnership of Cleveland Housing Network (CHN) and Emerald Development and Economic Network (EDEN) under Cuyahoga County's Housing First Initiative. EDEN is committed to operating and maintaining the new building for the purpose of housing formerly homeless and low-to-moderate-income households for thirty (30) years. The building will provide sixty (60) one-bedroom apartments for individuals who have experienced chronic, long-term homelessness with onsite supportive services available exclusively for residents. FrontLine Service will provide and coordinate the onsite supportive services and also link residents to services and amenities in the community. All residential suites will have one bedroom, one full bathroom, a kitchen, storage, and will be fully furnished. The site will have secured vehicular and pedestrian access and as property manager EDEN will provide 24 hour/day front desk security staffing
St. Joseph's Commons (Front Steps Housing and Services and EDEN) [11]
Front Steps Housing and Services (Front Steps), Emerald Development and Economic Network (EDEN) and PIRHL Developers have partnered to propose St. Joseph's Commons, a permanent supportive housing facility to replace Front Steps' current facility located at 1545 West 25th Street in Cleveland. Originally constructed in 1958 as a Travelodge motel, the current facility has reached the end of its useful life. Although it has been maintained to the best standard possible, the building cannot reasonably be retrofitted to meet industry best practices for PSH. Additionally, advancing geotechnical problems plague the riverbank upon which the building sits endangering the stability of the current facility. While studies are ongoing, it is very much understood that Front Steps will need to relocate – it is a matter of when, not if. The development team proposes to construct a new facility at 14734 Lorain Avenue, Cleveland, Ohio. This is an excellent PSH site due to its excellent access to public transportation; proximity to employment opportunities; and nearness to health care facilities. St. Joseph's Commons will follow the nationally recognized Housing First model to provide high quality housing with onsite services for chronically homeless and homeless individuals. The building, being developed by PIRHL, will be comprised of 60 fully-furnished one-bedroom one-bath apartments and provide office space for Front Steps corporate functions. This 2,863 SF of corporate office space is non-low income space. All units will be subsidized utilizing existing sources and contracts. Front Steps will provide and coordinate onsite supportive services through ongoing grant support and Medicaid billing. EDEN will be the property manager responsible for the day to day operations of the building including the 24/7 front desk security staffing. The facility will be constructed in compliance with Enterprise Green Communities.
Commodore Place Apartments (The Community Builders, Inc.) [12]
The Community Builders, Inc. (TCB) acquired the Commodore Place Apartments (corner of Ford and Euclid in University Circle) in 2015 with the goal of redeveloping and preserving the property to ensure that the building remains an asset to the neighborhood and community for years to come. The building is a thirteen story, mixed-use building with approximately 12,000 square feet of commercial space on the first floor and 198 housing units on the upper floors, which contain 144 units of Section 8 subsidized units and 54 market rate units. While well maintained, the building has not undergone a significant renovation in recent years and greatly needs a restoration. The renovation will not only include updating amenities to make the building more marketable but will consist of updating essential building systems to ensure that the building remains an asset to the neighborhood and community.
Kenmore Commons (?) [13]
Kenmore Commons is an affordable housing project that currently consists of two Project-Based Section 8 HUD properties: Kenmore Gardens (HUD Project No. 042-44014) and Kenmore Village (HUD Project No. 042-35589). Kenmore Commons have a combined 102 units consisting of two, three and four bedrooms and range in form and size. Kenmore Gardens consists of sixteen buildings that are scattered within a one square mile. Kenmore Village consists of nine buildings organized into three clusters of three buildings. Every unit of Kenmore Commons is within 1 mile of the renowned cultural institutions and medical facilities of the University Circle neighborhood. Kenmore Gardens was built in 1969 and Kenmore Village in 1982. Kenmore Gardens and Kenmore Village (collectively "Kenmore Commons") were substantially rehabilitated in 1995 with the use of 9% Low-Income Housing Tax Credits issued by the Ohio Housing Finance Agency (OHFA). The project plan is to substantial renovate both the interior and exterior of each unit, replacing items beyond their useful life. The plan also includes the construction of a community leasing center with community rooms and a learning center, a playground, community gardens, and connecting residents to the economic development that is happening within University Circle.
Knickerbocker Apartments (Bay Inter-Faith) [14]*
Bay Inter-Faith Housing, LSC Service Corporation and PIRHL Developers have partnered to rehabilitate and recapitalize Knickerbocker Apartments. This 8-story, former HUD 236 building is located at the heart of Bay Village in western Cuyahoga County. It was originally developed and is still owned by Bay Inter-Faith Housing, which is a consortium of 4 Bay Village churches that organized in the late 1960's to address the growing need for senior housing and services in the area. Constructed in 1974, the property is restricted to seniors over age 62. The property has a 20 year HAP contract providing operating subsidy for 67 of the apartments. While the building has been well maintained and benefitted from high continual occupancy, there are several objectives to be achieved through the proposed rehabilitation. Currently the building contains 169 units, of which 98 are 341 SF studios, 70 are one-bedroom, and the remaining unit is a twobedroom employee apartment. The building will be reconfigured from 169 to 148 units. In the process the number of studios will be reduced to 56, while the one-bedroom apartments will be increased to 91. Currently there are no accessible units in the building. This reconfiguration will create 21 fully accessible apartments. Step-in showers and kitchen reconfigurations will improve compliance with universal design in remaining apartments. Major building systems will be upgraded to increase energy efficiency and improve service to tenants including HVAC system upgrades to eliminate through-window AC units, modernization of elevators, replacement of domestic hot water heaters, and a new roof. The building's open air court is being enclosed to create a usable naturally lit common area. This space creates more area for tenant activities without adding on to the building. Tenant activities and services are plentiful at Knickerbocker. Residents enjoy an offering of differing activities every day of the week coordinated by the onsite Service Coordinator and Activities Coordinator. Eliza Jennings staffs an onsite Wellness Clinic five days a week providing tenants with access to home-based health care services.
Westerly II (Lakewood Seniors and Cleveland Housing Network) [15]*
Lakewood Senior Citizens, Inc. (Lakewood Senior) is engaged in a multi-year multiphase rehabilitation and recapitalization project for the Westerly Apartments complex (Westerly I, II, and III) in Lakewood, Ohio. The Cleveland Housing Network, Inc. (CHN) is proud to partner with Lakewood Senior and serve as the lead developer for the preservation of the Westerly Apartments, the largest affordable housing development in the City of Lakewood. Westerly II represents the final phase of a three phase redevelopment of this historic campus, having utilized 4% and 9% awards to renovate the first two phases. This 9% application is the last opportunity to leverage the Historic Tax Credits available to this building, which is co-listed with the rest of the Campus under a single Part 1. Westerly II is an eleven story 154-unit building originally constructed in 1968. LSC Service Corp, established in 1981, is an affiliate of Lakewood Senior and will continue to serve as the property manager for the redeveloped complex with guidance from CHN on LIHTC reporting and compliance issues. The Westerly II is part of a unique service-enriched campus of affordable housing with supportive services for seniors, in beautiful Lakewood, Ohio. Lakewood Senior has been an effective steward of the complex keeping it well maintained, inviting, and creating a wonderful home for many Northeast Ohio elderly residents. While the three buildings in the complex share a common architecture, styling, and use of materials, the differences in their age, layout, and financing has required a buildingby-building approach to the refinancing and rehabilitation. The substantial rehabilitation of the buildings includes the modernization of mechanical systems, reconfiguration and combination of suites into more desirable unit types, and the creation of fully accessible units.
NEW CONSTRUCTION
Circle North Lease Purchase (Famicos) [16]
Colfax Family Homes (Burton Bell Carr CDC) [17]
Burten, Bell, Carr Development, Inc. (BBC), the nonprofit community development corporation serving the Central and Kinsman neighborhoods of Cleveland, is proposing to develop thirty-six single family lease-purchase homes along Colfax Road and Minnie Street in the Kinsman neighborhood. The project, called Colfax Family Homes, is a result of a comprehensive neighborhood master planning process in 2014 in which more than 500 people participated. The unit mix will be comprised of a combination of one-, two-, and three-story houses with 3 to 4 bedrooms and 1.5 to 2.5 baths. Features include a fresh, contemporary design unlike typical lease-purchase housing. Homes will be built to Enterprise Green Communities standards and will include numerous durable products and features. Colfax Family Homes will complement the more than $80 million invested in the revitalization of the Kinsman neighborhood over the last decade. The project will also place low-income workers in proximity to hundreds of newly created jobs anticipated along the $331 million Opportunity Corridor and existing businesses with planned expansions.
Residences at Lakeview (University Circle Inc.) [18]
Slavic Village Green Homes (Slavic Village and Cleveland Housing Network) [19]
Slavic Village Green Homes I is a 37-unit scattered site single family infill project that will be available to families at or below 60% of the area median income (AMI). The project is a crucial component to the revitalization of the Slavic Village neighborhood. Over the last ten years, the public, private and philanthropic sector have pursued a multifaceted strategy to improve the housing stock in Slavic Village by rehabbing houses through the Slavic Village Recovery Project, providing new market rate housing options through the Trailside Homes development, removing blight through targeted demolition and assisting home-owners to make repairs to their homes. Slavic Village Green Homes I complements each of these efforts by building infill housing to fill in the missing-teeth left by the targeted demolition that has been necessary in the wake of the foreclosure crisis. Strong neighborhoods are built on strong neighbors, and the Slavic Village Green Homes project will provide our residents a platform to thrive. • CHN's nationally recognized lease-purchase program, has created homeownership opportunities by successfully transferring more than 80% of our units or 989 to income eligible buyers through 2015. • Our service delivery program will provide tailored wrap-around services to each resident family to help them improve their education, career and physical and financial health. By engaging with our families to develop and pursue long term goals and supporting them in their work with targeted services, our residents will progress to self-sufficiency and ultimately thrive. • Our homes will be at the leading edge of green building practices. By incorporating on-site solar power generation and building our homes to the U.S. Department of Energy's Net Zero specifications, our residents will enjoy dramatically reduced utility costs.