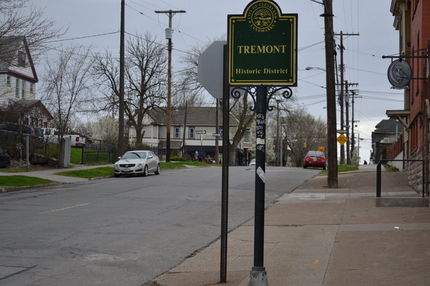 Tremont man robbed at gunpoint while walking home from bar(AND)
Man robbed of sneakers, Porsche in latest Tremont carjacking
CLEVELAND, Ohio -- Two muggers robbed a Tremont man at gunpoint early Thursday while he walked home from a bar.
The incident happened about 3 a.m. on West 10th Street near Fairfield Avenue.
Brandon Vulpitta told Northeast Ohio Media Group that he was walking from The South Side bar when he noticed two males following him.
Vulpitta walked into a nearby driveway, hoping to lose them, but the males followed.
They drew guns, ordered Vulpitta to the ground and took his belongings, Vulpitta said.
The muggers ran from the scene and remain at large.
"While I was being held up, I wasn't afraid they were going to kill me, but I'm concerned because I have family and co-workers who live in the neighborhood and I wouldn't want anything to happen to them," Vuplitta said.
The incident is the latest in a string of armed robberies and carjackings in the trendy enclave [2].
"I still think [Tremont is] one of the best neighborhoods in Cleveland and I'm proud to live here," Vulpitta said. "Hopefully we can prevent these things from happening."
(AND)
Man robbed of sneakers, Porsche in latest Tremont carjacking
CLEVELAND, Ohio -- Detectives are investigating another carjacking in the city's Tremont neighborhood, as police continue searching for men linked to other violent muggings [3] in the popular west side community.
This carjacking victim, a 22-year-old Euclid man, was sitting inside his 2004 Porsche Cayenne at West 5th Street and Miller Court about 11:45 p.m. Wednesday, waiting for a friend to come out of an apartment, according to a Cleveland police report.
As he waited, two men came to his window and ordered him to get out. One man pulled a gun and threatened to kill him if he didn't obey them, the report said.
The man got out of the car, and the assailants ordered him to take off his Nike Airmax shoes. The men grabbed his sneakers, jumped into his Porsche and sped off toward Jefferson Avenue, the report said.
Police found the Porsche later that night abandoned on East 36th Street.
The man told police his cellphone, tablet and wallet, which contained credit cards and his Social Security card, were inside the car when the men took off, the report said.
There was no description of the attackers in the report.
The holdup came the night after police obtained arrest warrants charging Antowine Palmer, 22, Kenneth Jackson, 19, and David Nicholson, 33, in connection with the July 25 pistol-whipping and carjacking of a Barrio employee on Literary Avenue.
Palmer and Nicholson remain at large, but Jackson was arrested Monday after police in Slavic Village spotted a Toyota Camry stolen from a couple at gunpoint [4] on West 7th Street the day after the Barrio attack, according to a police report.
As the officers were calling for backup, the carjacked Camry turned into a driveway on Ovington Avenue and three men bailed in opposite directions. Police found Jackson inside a nearby home that wasn't his, hiding under a crib in a room with a loaded handgun, according to court records.
Jackson is charged with aggravated robbery in connection with the Barrio attack, and burglary, carrying concealed weapons and receiving stolen property after his Monday arrest. He is being held on $150,000 bond.
Police are also investigating a similar Aug. 13 carjacking and pistol-whipping [5] at Thurman Avenue and Literary Avenue. Two assailants ordered a man to the ground, rifled through his pockets and stole his car.
http://www.cleveland.com/metro/index.ssf/2015/08/tremont_man_robbed_at_g... [6]
http://www.cleveland.com/metro/index.ssf/2015/08/man_robbed_of_sneakers_... [7]
anti-speciesism - Quest, ministries - gofundme - please donate