TOLEDO, Ohio -- Wildlife researchers want to know what's killing thousands of walleye in Lake Erie that have been washing up on beaches along its western shore.
It's a big concern for anglers who come from across the Midwest and beyond to catch the lake's most popular sport fish.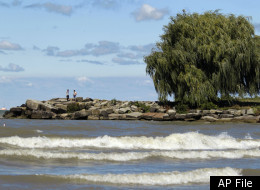 more at link below (and videos too)
http://www.huffingtonpost.com/2011/05/13/dead-fish-lake-erie-2011_n_8618... [1]
Read more here http://www.sott.net/articles/show/228519-U-S-Dead-walleye-showing-up-by-... [2]
http://www.youtube.com/watch?v=C-yjb21oVGc  [3] He speaks of many areas, includes Ohio walleye (at 5:15) along with other events
Uploaded by migfoxbat [4] on May 14, 2011
Category:
Only when the last tree has been cut down, Only when the last river has been poisoned, Only when the last fish has been caught, Only then will you find that money cannot be eaten. — Cree Indian Prophecy
speachless, Betty
Links:
[1] http://www.huffingtonpost.com/2011/05/13/dead-fish-lake-erie-2011_n_861898.html
[2] http://www.sott.net/articles/show/228519-U-S-Dead-walleye-showing-up-by-the-thousands-in-Ohio
[3] http://www.youtube.com/watch?v=C-yjb21oVGc 
[4] http://www.youtube.com/user/migfoxbat
[5] http://www.youtube.com/watch?v=u0huNZD3gR0
[6] http://www.youtube.com/watch?v=IubuOENEs6s
[7] http://www.youtube.com/watch?v=9Yw9DI16ZHo
[8] http://www.youtube.com/watch?v=PFoOQHSbEjM
[9] http://www.youtube.com/watch?v=tKmPRGU-Psk
[10] http://www.youtube.com/watch?v=FOl-3vtoPXw
[11] http://www.youtube.com/watch?v=A6YTDGEPsbI
[12] http://www.youtube.com/watch?v=TUMZFjUvvQE